It is familiar that train journey is the most comfortable one. In fact the best way to enjoy the scenic beauties over the hills. Well, Indian railways provide the luxurious way of travelling in train.. Trust me, the most luxurious way 🙂 Those trains are named as Palace on wheels, The Maharajas Express, The Golden Chariot and The Deccan Odyssey.
The Maharajas Express
As defined by the name, the look and elegance service will be offered with an glimpse of rich cultural heritage of India.  The "World's Leading Luxury Train" award at the World Travel Awards for four consecutive years in 2012 ,2013,2014 & 2015.
It was the first commercial train start on January 9th 2010. The best royal experience you can get while travelling from Mumbai/Delhi/Agra exploring illuminate destinations. Once you find the packages offering and the journey details, trust me you'll pinch yourself 😀
Here are the links for the Gallery providing the most expensive and luxorious amenities and the Fare chart on the website.
The Golden Chariot
Another luxury tourist train that covers the beautiful destinations in Karnataka and Goa. This has 19 coaches and provides various facilties including gym, spa, restaurants and lounge. First trip started on March 10, 2008. This purple fascinating look of train will give you a life lasting memory 🙂
It covers Hampi, Goa, Bangalore, Chennai, Pondicherry, Tanjavur, Madurai, Kochi and Kerala backwaters too :* (Though on different packages )
One cannot miss those Kerala back waters. Here are the links for Tariff and Website
Palace on Wheels
As mentioned in the name, you'll be fulfilled with the majestic ambience and royal rajput style of living. Those interiors and lavish furnishing including the architecture, paintings totally drive through the ancient royal times 🙂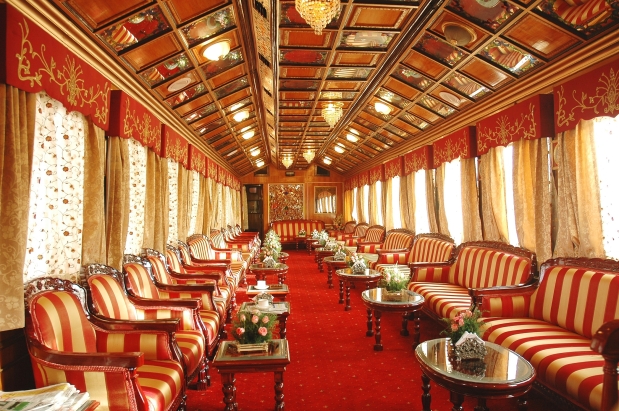 The India's first pan-country super luxury train "Palace On Wheels" was started on January 26, India's Republic Day, in 1982 then train service was refurbished and relaunched in August 2009 with a new looks and more luxury facilities. It includes 14 salons and naming two restaurants as Maharaja Restaurant and Maharani Restaurant ♥
The train covers Udaipur, Jodhpur, Jaipur, Delhi and Agra. And the Tariff and Detailed tour details are on the website
The Deccan Odyssey
The Deccan Odyssey is a special luxury train run by venture of Maharashtra MTDC and Indian railway. The 5-star hotel on wheels covers the heritage site of Maharashtra and boost the tourism on the Konkan route. The new express luxury train of India has total of 21 luxury coaches including all the royal amenities. Like Maharaja express, the deccan odyssey also runs from Mumbai to Delhi.
It covers Mumbai, Ajanta, Ellora caves, Udaipur lake city, Agra and Goa on various packages.
There is a special Companion offer for couples :*
Here are the fares and travel schedules on their website.
Source: Internet